SINNOH JEWELS
A Pokémon travel zine
---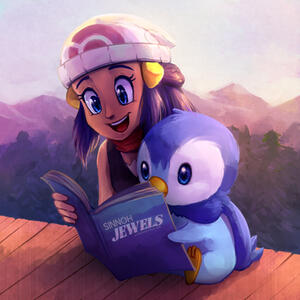 SINNOH JEWELS is a Pokémon themed travel zine based on the Sinnoh region! We want to this zine to showcase the "jewels" of Sinnoh- iconic scenery and pokémon!
---
FAQ
What is a zine? What is a travel zine?
A zine, short for "magazine", is a collection of works, usually artwork and writings, that is centered around a particular theme.
A travel zine is a collection of works that showcase a place or places, much like a regular travel magazine.

In this case, Sinnoh Jewels is a travel zine that focuses on the Sinnoh region in the Pokémon universe. We want to have illustrations and writings about the various towns, landmarks, and the pokémon that live there!
Is this a digital or physical zine? Will there be merch?
This will be a physical zine! We will have merchandise bundles available as well.
Will this zine be for charity or profit?
Sinnoh Jewels is a for-profit zine! Minors that are unable to receive payment will have their portion donated to a charity of choice. (TBA)
My question isn't here!
Couldn't find the answers to your question? Reach out to us through our CuriousCat, where you can ask anonymously, or at any of of social medias! All of these are listed in the "Contact" sections of this carrd!
Contact
Questions or concerns? Contact us at any of the links below!
schedule
| DATE | EVENT |
| --- | --- |
| March 21- April 18 | Contributor apps open |
| April 25/26 | Acceptance & rejection e-mails sent |
| May 31 | Check-in 1 |
| June 28 | Check-in 2 |
| August 9 | Check-in 3 |
| September 6 | Finals due |
| October 15 | Pre-orders open |
| November 20 | Pre-orders close |
| December (Day TBD) | Orders shipped |
| December - January | Contributor packages sent |
| Early 2022 | Payout and donations made |
*Schedule is subject to change.